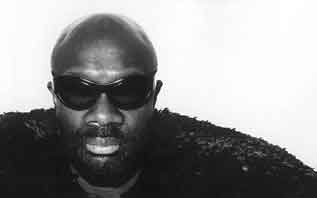 MEMPHIS, Tenn. - Isaac Hayes, the baldheaded, baritone-voiced soul crooner who laid the groundwork for disco and whose "Theme From Shaft" won both Academy and Grammy awards, died Sunday afternoon after he collapsed near a treadmill, authorities said. He was 65.


Hayes was pronounced dead at Baptist East Hospital in Memphis an hour after he was found by a family member, the Shelby County Sheriff's Office said. The cause of death was not immediately known.

With his muscular build, shiny head and sunglasses, Hayes cut a striking figure at a time when most of his contemporaries were sporting Afros. His music, which came to be known as urban-contemporary, paved the way for disco as well as romantic crooners like Barry White.

And in his spoken-word introductions and interludes, Hayes was essentially rapping before there was rap

R.I.P.
Bernie Mac


As you all may or may not know, Isaac Hayes is and was my a huge influence on almost anything creative I've done or do. His body of work was innovative.

I had no clue he was having health problems. This is a shock.

If you look at his catalougue, it's extensive. He was a man who accomplished alot and made some magical music. He, aside from James Brown was one of the most sampled artist in rap music. Damn, that's a tragic loss.

and I was on my way to go watch Pineapple Express right now, kind of fucked my mood up.

I know it's a tad bit annoying to go to blogs who have music automatically playing when you hit their home page, but being that this man was so influental I will be letting this youtube video autoplay the whole week.



REST IN PEACE.